Tracey, mother of Hermione who is in Year 13.
My youngest daughter, Hermione has dyspraxia and dyslexia. As a result, she's lacked a little confidence, especially growing up around her two sisters and brother who find things so easy.
As a ten-year-old, Hermione expressed an interest in horse riding. She wouldn't ride a bike, but I optimistically signed her up for some riding lessons. Hermione's confidence blossomed. She soon formed an amazing bond with her own pony.
Towards the end of 2018, she was at school in Auckland. She was doing okay, but my husband, Nelson and I felt she was getting a little lost.
I took horse-mad Hermione along to Equidays at Mystery Creek. We came across the Nga Tawa promotional stand. Assuming Marton was a suburb of Cambridge, I signed up to go along to their School in Action Day the following week. When that Friday rolled around, I still believed I was Waikato bound. It wasn't until Nelson said to me "you do know that Marton is near Palmerston North?" that I realised I might be in for a slightly longer drive! Although, for all I knew Palmerston North was in Waikato too. I'd never heard of Palmerston North either. I set my google maps and decided to make a weekend of it.
From the moment we drove into Nga Tawa, we felt a positive air about the place. The Principal we met was passionate, knowledgeable and authentic. The students that took us on a school tour were articulate, friendly and positive. Hermione bubbled with excitement to board. We decided there and then that she would.
Nelson travelled internationally for work, I had a business in Auckland and the rest of our family are there. So, when Hermione was accepted as a day girl at Nga Tawa instead of a boarder, it was a shock. I doubted it was even an option.
What happened next changed our entire lives. Within a month, we packed up in Auckland, purchased a home just down the road from Nga Tawa and moved to Marton so that Hermione could start year 9 as a day girl.
Three years down the track and we love our life in the Rangitikei. At Nga Tawa, Hermione isn't just a number. The staff know every child by name. The girls look out for each other. It's not like the other schools our children have attended - the inclusiveness is real. Despite Hermione's personal challenges, at no stage has she ever been treated differently.
A good education is important to us. We want a nurturing, safe environment for our daughter – a school that supports women, and supports Hermione to become anything she wants to be. For us, Nga Tawa ticks all those boxes. Hermione is happy, doing well academically and loves spending time at the yards before and after school with her pony, Mousa.
It really is the best move we've ever made. For us, Nga Tawa is New Zealand's best kept secret and well worth changing our life for.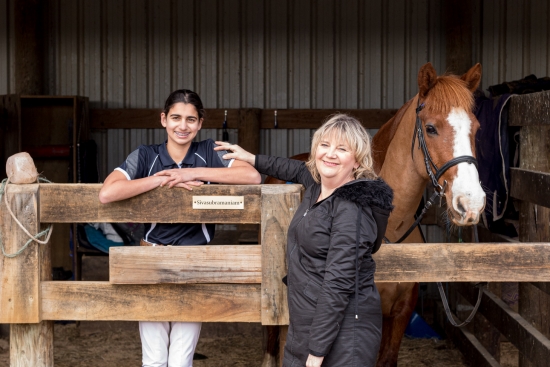 "For us, Nga Tawa is New Zealand's best kept secret and well worth changing our life for."