Elle, former international student
When I lived in Bangkok I went to a co-ed school with 1700 kids and 40 in a classroom. It was a 50-minute drive with my Dad to get to school each day, and to play netball I had to get up at 5.30 in the morning to make practice at 6.30 – five days a week!
My Mum asked me if I wanted to go to Nga Tawa. I said yes because I love horses and I heard the education is very good there.
I arrived in Term 3 of Year 9, which was hard for me because I was quiet with not very good English and everyone had already made friends.
Nga Tawa was really different to how I imagined a boarding school would be. I thought it would be cold and scary, but it wasn't like that at all. The teachers and girls were warm and friendly, everyone was so positive, and I made lots of friends. And I thought the uniform was really cool – it reminded me of Harry Potter!
Back home it's all study study study, but at Nga Tawa I experiened a lot of new activities outside of study and was encouraged to try new things. I competed at dressage and even won a couple of classes at shows.
I was Deputy Head of Humanities in my final year, on the Student Council and I took Speech and Drama. I helped our International students settle in – even if it meant giving them some tough love when it came to being homesick. I told them I totally know what it's like but soon they would be too busy to miss home at all.
I loved being at Nga Tawa. Even though I came from overseas, I never felt that I didn't belong there.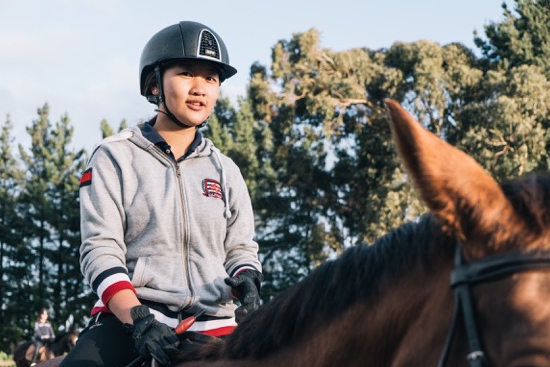 "Even though I came from overseas, I never felt that I didn't belong there."